Essays On His Works
This collection was born of a conviction that Vassanji's contributions to the global literary scene merit more in-depth scholarly notice. The articles herein, most of which are comparative in focus, provide various interpretations of Vassanji's writings through a diversity of theoretical frameworks. The fulcrum of much of this research comes back to issues of globalization, transnationalism, identity, post-colonialism, cosmopolitanism and diaspora. It should also be noted that, while many critics have tried to fit Vassanji and his writing into national perimeters identifying him as Canadian, others as African or Indian, or all of these, none of the writers in this book argue that Vassanji, or his works, belong to any particular national paradigm. Rather, the articles recognize Vassanji's engagement with transnational issues and his preoccupation with history and politics, and concerns of home, migration, exile, loss, belonging, dislocation, violence, trauma, and identity as central to his writing. Included are a new and detailed interview with Vassanji and a previously unpublished article, authored by Vassanji himself. Among the contributors: Annie Cottier, Jonathan Hart, Jonathan Rollins, Warris Vianni, Amin Malak, and Nancy E. Batty.
Details

Guernica Editions (Essential Writers Series)

9781550719963

200 pages |
Regular price
Sale price
$20.00 CAD
Unit price
per
Sale
Sold out
Share
Reviews

A scholarly scrutiny of M.G. Vassanji's contribution to "the global literary scene" is long overdue. It is cause for celebration that this volume, the first in Canada to engage with M. G. Vassanji's many and important writings, should appear. Noteworthy as well is the fact that it is published by Guernica, an imprint that for numerous years has been a pioneer in publishing writers and critical debates that could be characterized as productively supplementary to the mainstream.

Canadian Literature A Quarterly Criticism and Review
View full details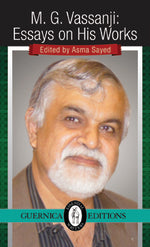 About the author
Editor Asma Sayed has taught comparative literature, women's studies, cultural studies and communication studies, at a number of Canadian universities. She has published in the fields of multiculturalism, diaspora studies, and Indian cinema. In 2013 she co-organized an international conference titled The Transnational Imaginaries of M. G. Vassanji at the School of Oriental and African Studies, London, UK.