Essays on Her Works
Born near Park Valley, Saskatchewan, on Crown land, often referred to by locals as a road allowance community, Maria Campbell is the oldest of 8 children. Much of her early years are revealed in Halfbreed, the book which would ultimately ensure that Campbell's life would take a path as a writer, an artist, a community worker and social rights advocate. Campbell has received four honorary doctorates, the Order of Canada, is a Trudeau Mentor, and has garnered numerous awards for her contribution to Métis and Aboriginal people's and women's rights in Canada, and for her efforts to preserve traditional knowledge, as well as promote the practice of indigenous knowledge. In addition to writing, Campbell has produced plays, film, television and radio shows, all dedicated to promoting Métis and Aboriginal culture. Contributors to this book include Melissa Lam, Michael Lahey, Helen Hoy, and Dylan A.T. Miner.
Details

Guernica Editions (Essential Writers Series)

9781550716481

125 pages |
Regular price
Sale price
$20.00 CAD
Unit price
per
Sale
Sold out
Share
Reviews

Campbell is a feminist, an activist, a visionary, an artist, a mother, a grandmother, and an elder. And she is also local. Part of my connection to the book comes as a result of Campbell's stories coming from so close to home - Saskatchewan, Alberta, British Columbia - the hinterland to the world of political activism - not chic, not urban, not exotic. But that locality was what made Campbell's book so urgent and important to me. This was not the story of some far-away urban woman, writing from the American East Coast, from California, or South Africa. This was a woman who came from the same part of the world as I did. Someone who has walked the same small Canadian city streets as I walked, breathed the same prairie air, listened to the same bird song, and weirdly, shared the same official national history as me.

Jolene Armstrong
View full details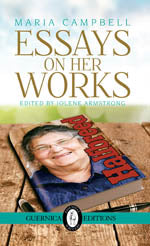 About the author
Jolene Armstrong is associate professor in English and Comparative Literature at Athabasca University. Her interests and teaching assignments include Indigenous literatures, Canadian, American and Latin American literature, Cultural Studies, and mixed media art, as well as collecting and analysing ephemera as a form of narrative of daily life.