Essays on His Works
A critical look at PEI writer J. J. Steinfeld's extensive and prolific writings in poetry, fiction and theatre, ranging from his early work on Holocaust themes to his later examinations of absurdity and existentialism. Among the contributors: Raina L. Shults, Michael Greenstein, Richard Lemm, Mark Sampson, Ellen S. Jaffe, George Elliott Clarke, Sandra Singer and Shane Neilson.
Details

Guernica Editions (Essential Writers Series)

9781771831772

300 pages |
Regular price
Sale price
$19.00 USD
Unit price
per
Sale
Sold out
Share
Reviews

Oscillating between the chronotopes of World War II and contemporary North America, [Steinfeld's] narratives form intriguing circuits of connection and disconnection […]. Steinfeld's conversation with Kafka accords with the view that history's clocks are not in unison and that their worlds split apart and clash in fearful asymmetry.

Michael Greenstein

[Our Hero in the Cradle of Confederation] captures the "laissez faire" spirit of our times where, as metaphoric Islander, one may cast an ironic, critical gaze, smell disparity and hypocrisy, and feel desperation within the Island's shores and ideological tides, yet retain "hope" and aspire to "fight back."

Richard Lemm
View full details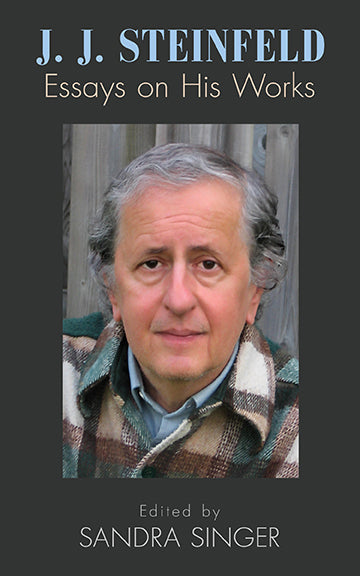 About the author
Acclaimed for his narrative lyric suites (Whylah Falls and Execution Poems), his lyric "colouring books" (Blue, Black, Red, and Gold), his selected poems (Blues and Bliss), his opera libretti and plays (Beatrice Chancy and Trudeau: Long March, Shining Path), George Elliott Clarke now presents us with his epic-in-progress, Canticles, a work that views History as a web of imperialism, enslavement, and insurrection. A native Africadian, Canada's 7th Parliamentary Poet Laureate ranges the atlas and ransacks the library to ink lines unflinching before Atrocity and unquiet before Oppression.
University of Guelph professor Sandra Singer's primary scholarship concerns Doris Lessing, having co-edited Doris Lessing Studies (2003-2014) and two essay collections: Doris Lessing: Interrogating the Times and Doris Lessing's The Golden Notebook After Fifty. Her current projects encompass fiction, trauma and terrorism.