The I-Ching Poems
This book is a collaborative work of Ted Goodden?s ceramic sculptures and Cornelia Hoogland?s poems. Specifically, they are responding through image and text to the 64 hexagrams contained in the ancient book of wisdom, the I Ching, or Book of Changes. Cosmic Bowling's calm weather lands in the midst of twitter storms in which everybody wants to start a conversation. Here's a conversation -- facilitated through visual art and poetry -- that's been going on for three millennia, one that asks the perennial question: How should we live now?
Details

Guernica Editions (Essential Poets Series)

9781771835374

90 pages |
Regular price
Sale price
$17.95 USD
Unit price
per
Sale
Sold out
Share
Reviews

The kaleidoscopic movements of Hoogland's lines are formally enhanced by her artful caesuras, which make room for surprising shifts. Her crisp and more politically urgent tercets, meanwhile, speak to the contingencies and exigencies that consulting the I Ching can unearth. Climate catastrophe is a frequent topic, notably in the second stanza of "Ta Kuo, Preponderance of the Great": "The planet's idling on fumes, a kind of deadly / inertia. We go on being part of the problem. Like Atlas / bearing up the sky, a strained and daily quality. We suffer." We suffer, "but who would Sisyphus be without his rock," as a later poem concludes. Hoogland's Sisyphus analogy is not to us, though, but "the tagged Monarch butterfly," whose mass migration Hoogland tags as a symbol of perseverance.

Geordie Miller

We learn of the refugee and his family, the thinning atmosphere, the tiny wonders of nature close at hand, the hard-won pride in one's gifts – reading like a poetic journal. Cosmic Bowling is a true Vade Mecum, that you might toss into a bag (along with the I Ching perhaps). We should be grateful for this flowering of their art in these pages.

The Red Alder Review

From the I Ching and the small sculptures, poet Cornelia Hoogland created sixty-four six-line poems, six lines to represent the hexagrams: poems that are both personal and collective in how they speak to human experience, to the specifics of her experiences which serve to guide the reader into contemplation. In a way, these are poems with a kind of direct purpose, poems of metaphor and insight.

The Malahat Review

Cosmic Bowling is a wonderful collaboration of two artists at the height of their powers as they joyfully explore art, wisdom, and time. Poems and sculptures dive into flux and flow, flipping between word and image, body and dazzling metaphor, in a form that enacts the core meanings of the I Ching. Visually rich and linguistically marvellous.

Nancy Holmes, The Flicker Tree: Okanagan Poems

In this astonishing book of concise and direct poems, of gorgeous, spare sculptures, the I Ching provides an ambiance in which random moments and thoughts find each other. The on-going interrelationship of poems and photos of sculptures work into a beautiful, realized whole. The human figure is of the earth, as if it has just emerged. Throughout, the sculptures and poems shape a voice of longing and homecoming. "I'm as I know myself to be."

Patrick Friesen, Outlasting the Weather: New & Selected Poems, 1994-2020

Cornelia Hoogland and Ted Goodden created a complex and layered space of contemplation for their installation, "The Book of Changes: Notes and Gestures." We are excited to see the translation of this collaborative exhibition into book form—a portable gallery, enfolding the viewer/reader into the resonant spaces of change.

Angela Somerset / Denise Lawson, Co-Curators Comox Valley Art Gallery
View full details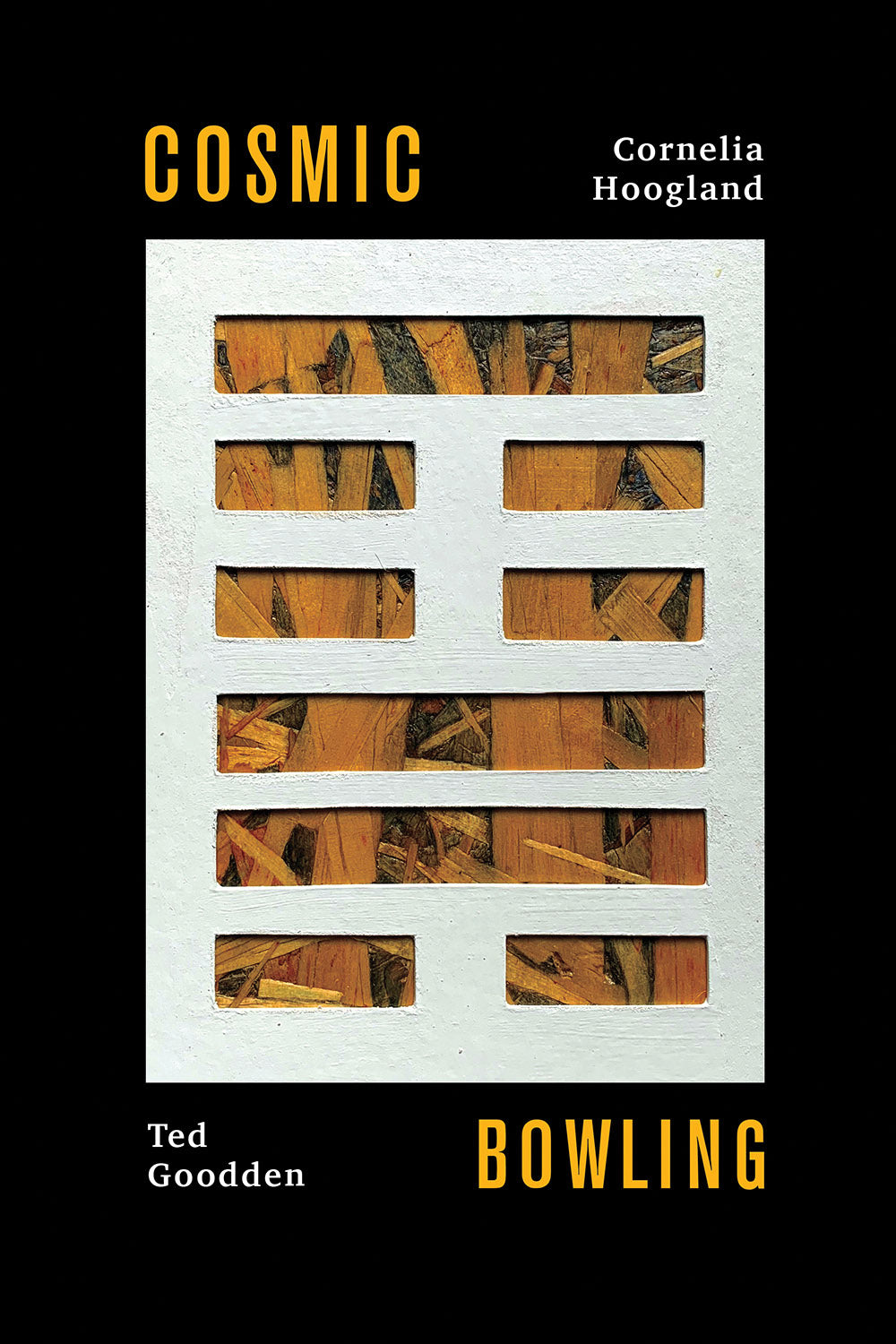 About the author
Cornelia Hoogland's chapbook, Dressed in Only a Cardigan, She Picks Up Her Tracks in the Snow, is forthcoming with Baseline Press (2021). Cosmic Bowling (Guernica, 2020), is a collaboration with the visual artist Ted Goodden. Trailer Park Elegy and Woods Wolf Girl were finalists for Canadian national awards. Hoogland was the 2019 writer-in-residence for the Al Purdy A-Frame and the Whistler Festival. She lives and writes on unceded Puntledge and K'omox territories on Hornby Island in the Salish Sea.
Ted Goodden is a visual artist whose work is exhibited in major galleries. The artwork for his illustrated book, Glory Boy, has toured across Canada.